The Best Travel Options On The Gurgaon To Manali Route By Us Mannu Travel
1 - Hidimba Devi Temple,
locally known as Dhungari Temple,[1] also known variously as the Hadimba Temple, is located in Manāli, a hill station in the State of Himāchal Pradesh in north India. It is an ancient cave temple dedicated to Hidimbi Devi, wife of Bhima, a figure in the Indian epic Mahābhārata. The temple is surrounded by a cedar forest called Dhungiri Van Vihar at the foot of the Himālayas. The sanctuary is built over a huge rock jutting out of the ground which was worshiped as an image of the deity
2 - Solang Valley, Manali Overview
When heading to Manali for a vacation, two absolutely essential destinations in the itinerary are Rohtang and Solang Valley. 14 kilometres to the north west of the main town of Manali, Solang Valley is one of the most popular tourist destinations in Himachal Pradesh. Situated on the way to Rohtang from Manali, every year the valley welcomes tourists in huge numbers. A favourite for adventure enthusiasts, parachuting to paragliding, horse riding to driving mini-open jeeps specially available for tourists of all age groups, Solang Valley has it all.
During winters, Solang valley is covered with snowmaking skiing is a popular sport here, with training institutes and trainers located in the valley to supervise skiers and train beginners. As the snow melts, skiing is taken over by zorbing. Another popular attraction of Solang valley, taking advantage of the slopes of the valley, you are likely to spot a huge transparent ball with mostly two people inside it rolling down the slope during summers. Yes, Zorbing is as much fun as it looks like. One of the most vibrant and enjoyable places in Manali, there is no way one can possibly miss this amazing valley, while here.
Photos of Solang Valley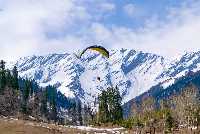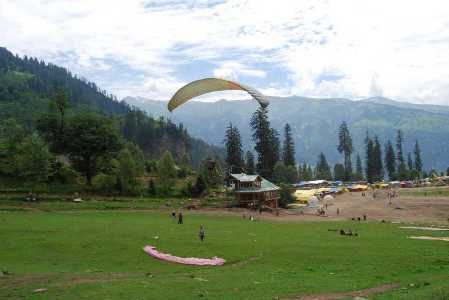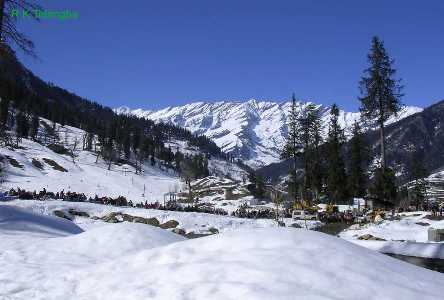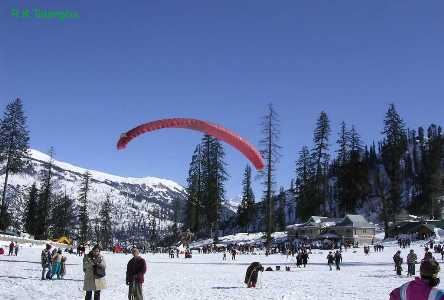 3 - Rohtang Pass, Manali Overview
Located at a distance of just 51 kilometres from Manali, Rohtang Pass can be reached only by road. The pass is located at a massive height of 3978 metres on Manali- Keylong road. When planning a trip to Manali, a day off to the vista point of Rohtang Pass is the ultimate and almost essential attraction of the itinerary. Owing to its splendid natural beauty, Rohtang Pass is a favourite among the community of film directors. Many blockbusters ranging from 'Jab We Met' to 'Yeh Jawani Hai Deewani' have been shot here. A peculiar fact behind the name of the place is that it was named so because a number of people working in CBRE died whilst trying to cross this treacherous stretch.
An experience of the snow can never be complete without a sledge ride, which involves sliding through the snow in a wooden toboggan. Another thrilling activity that can be pursued at Rohtang Pass would be mountain biking where you ride your mountain bikes off the regular course and into the lesser taken routes. It can get a bit rough, so you must take care in case you are planning on pursuing this activity. You can try your hand at skiing and tyre drop at the Rohtang Pass as well, where again you slide down a slope of snow whilst using the appropriate equipment. Gear for all of these activities is available for reasonable rent, so do not miss out on this opportunity.
Photos of Rohtang Pass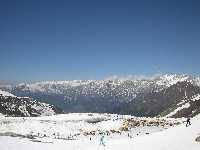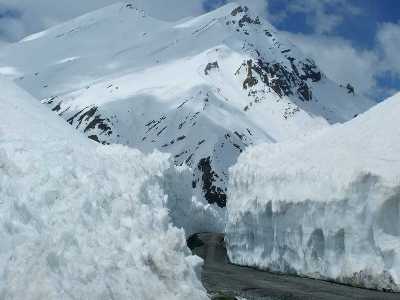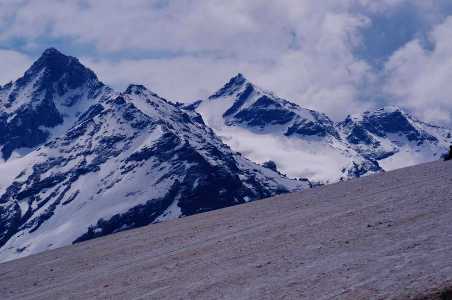 4 - Beas Kund Trek, Manali Overview
Other than being famous a tourist destination, Manali is also the way to one of the most undertaken treks - the Beas Kund Trek. This trek is a perfect weekend getaway plan which takes you away from the hustle and bustle of the city life. Get a chance to feast your eyes on the outstanding views of Pir Pinjal mountain ranges over the Beas river, let your soul get wooed by the spectacular meadows of Dhundi and Bakarthach and finally, the glacial lake at Beas Kund which is worth all the hiking.